Books
Stuart's Cybernetic Transposition Mini-Course (Available at no charge)
This 21 installment Cybernetic Transposition Mini-Course, a substantially abbreviated – but still very valuable – version of the first five chapters of my best-selling eBook, "How to Get Lots of Money for Anything – Fast."
These 21 installments comprise a complete eBook of about 100 pages that I would normally sell for $29.50. But you can receive my Mini-Course absolutely free because you are a reader of my Success Blog.
Subscribe HERE.
---
Stuart's Best-Selling eBook System – over 25,000 copies sold. Now includes a full Audio Book version.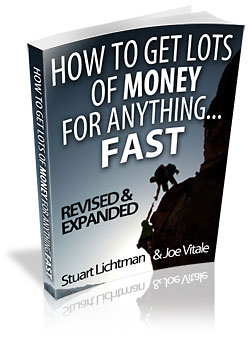 Dear Friend,
We've never met, but I know a couple of things about you:
No matter how much money you have now, you also have powerful abilities inside yourself that you are not taking full advantage of (yet)… and…
If someone told you about a new way to bring in a lot of money quickly – and it was legal and easy to do – you'd want to know more about it.
How do I know these things about you? This knowledge comes from years of experience with tens of thousands of people around the world. All kinds of people. And every one of them had hidden skills and talents they weren't using nearly as powerfully as they could. What is more, once they knew about a secret (that I will tell you about today), their lives and their fortunes changed for the better – quickly and forever!
---
The Winning Startup
By Stuart Lichtman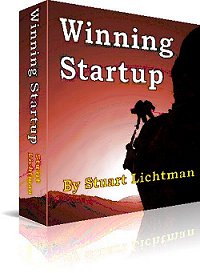 In his insightful new book that looks at economic thinking about entrepreneurship in a new way, The Coming Prosperity, Philip Auerswald of the Kauffman Foundation points out that "Productive entrepreneurship is the animating element of the coming prosperity."
But to bring about this prosperity, it will take lots more successful entrepreneurs than the fraction of a percent of entrepreneurial naturals like Richard Branson and Sam Walton. These "entrepreneurial naturals" already had the Successful Entrepreneurial Personality that is required to become a highly successful entrepreneur before they even started their entrepreneurial journeys.
But what about the 99%+ of potential entrepreneurs who do not already have a Successful Entrepreneurial Personality?
So far, books on entrepreneurship and entrepreneurial trainings have only, in effect, addressed the "entrepreneurial naturals." They incorrectly assume either that whatever personality a potential entrepreneur has will do the job, or they point out that you don't have what it takes if you don't fit their models.
While many entrepreneurial naturals have told me that they find great value in The Winning Startup, it is primarily directed at the other 99+% of potential entrepreneurs. If that is you, following what this book presents will very probably mean the difference between your entrepreneurial success or failure.
This book is absolutely unique in what it presents, starting with how to develop a Successful Entrepreneurial Personality.