Jerry Wolman was born during the Great Depression, during 1927, in poverty-struck Shenandoah, Pennsylvania. He didn't see himself working in the mines so he labored mightily, starting to work at age 8 to rise above the crowd. Finally, at age 17, after his father had a stroke (in 1944), Jerry, in desperation, attempted to enlist in the Navy to earn money for the family but he flunked the physical because of a heart murmur. So he enlisted in the Merchant Marines where he became a Chief Radio Officer. This allowed him to send money home to support his parents.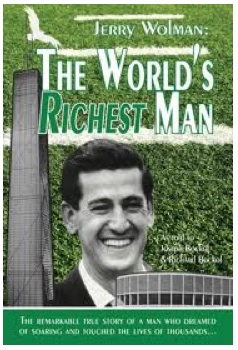 Shortly thereafter, he met his future wife, Anne, whom he married in 1948. They left Shenandoah without knowing where they were headed and decided to go where the first person that picked them up was headed. That was Washington, D.C.
Arriving there, they were completely broke. But Jerry was able to get an apartment for them and groceries – without any money. Their new landlord believed their promise to get jobs and pay her back out of their first paychecks and she arranged for their groceries.
The next day, Anne was hired as a bookkeeper and Jerry was hired by the owner of a small paint and decorating store. Soon, by dint of his photographic memory and extremely hard work, Jerry was promoted to manager and made the store prosper. But the owner, while repeatedly promising bonuses and stock, failed to come through.
So Jerry quit his job and started his own painting company, working alone. He started out painting a three-story apartment building with 300 windows, climbing rickety ladders to do a great job. He quickly built a reputation as being honest, hardworking and dependably producing quality work.
People just trusted Jerry. His word was truly his bond. This brought him lots of investors and Jerry built numerous major real estate projects around Washington, D.C., usually with groups of doctors as his financial backers.
By 1961, the Jerry Wolman Construction Company had 300 employees and 10 high rises to its credit as well as numerous other projects including a number of high visibility ones. In the process, his net worth had grown to about $18 million. Two years later, he bought the Philadelphia Eagles. Pretty soon his net worth had reached about $100 million.
The mortgages for his large real estate projects were provided by insurance companies, one of which was John Hancock where Jerry was considered their fair haired boy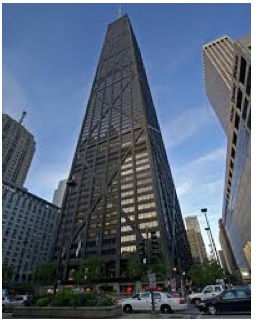 When a friend of his, one of the loan officers who had financed many of Jerry's projects started his own mortgage brokerage firm, he asked Jerry to come to Chicago to initiate a project that would produce some badly needed fees for him. Jerry, of course, went to help his friend.
While looking at potential projects, he noticed a major plot on Michigan Avenue but was told it was unavailable, that the owner would not sell. Jerry made one phone call and, via his great ability to instantly connect and be trusted, got the plot for $5 million. He then went to John Hancock and asked them to buy it from him for $6 million and to lease it back to him for 60 years with a buyout option. Amazingly, they agreed. Hancock also agreed to loan Jerry $63 million to build the project, which became the 100-story John Hancock Building.