UPS is the world's largest package delivery company, delivering an average of 15 million packages per day around the world.
In 1907, James E. Casey, borrowed $100 from a friend and established the American Messenger Company, the forerunner of UPS, to deliver packages and run errands for retail stores in Seattle, Washington. Over the next 30 plus years, American Messenger Company extended its services to other cities, taking its present name with its first expansion to Oakland, California in 1930.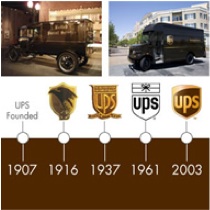 Between 1940 and 1959, UPS undertook a major effort to expand its services by acquiring "common carrier" rights to deliver packages between all customers, both private and commercial. This decision placed UPS in direct competition with the U.S. Postal Service, and in direct opposition to the regulations of the Interstate Commerce Commission (ICC).
UPS overcame this as well as numerous other major challenges to become what they are today.